| | |
| --- | --- |
| ICS Dr. G. Roscher GmbH | EEGSYS |
High Performance EEG-Software from the NIMH, USA
EEGSYS is a high performance software package for the acquisition and analysis of EEG. It incorporates the necessary standard software applications - mapping, FFT etc, database and utilities. It is being used and has been further developed by a consortium of EEG laboratories in the USA, co-ordinated by the Neuro Science Centre of the National Institute of Mental Health. The proprietor is the Friends Medical Science Research Center, Inc of Baltimore. Using the EEGSYS ensures membership in the consortium and automatically bestows upon the user a member's rights and privileges.
In collaboration with the NIMH essential components were further developed and incorporated into a graphic user interface which is particularly helpful in facilitating the graphic representation of data, the establishment of ERP's (event-related potentials) and the presentation of results.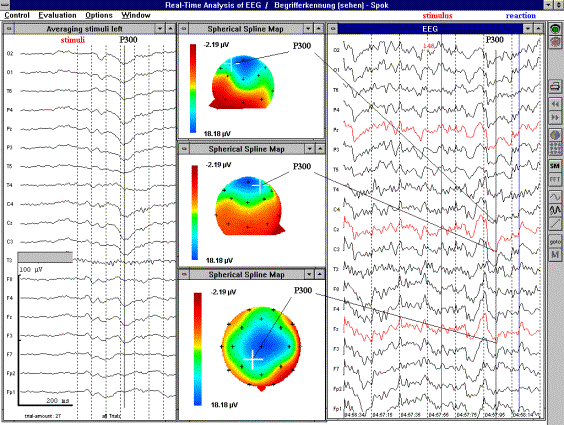 Our Offer:
· Recording of EEG data.
· Calibration of EEG channels.
· On-screen display of EEG signals.
· Manual and computer-aided artifact check.
· Methods of signal analysis.
· EEG-Mapping.
· Real-time recognition of Event-Related Potentials.
· Real-time recognition of defined events and patterns in the EEG-signal.